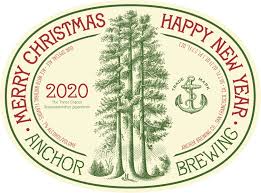 Come get your Christmas / Holiday Beer.
Anchor Christmas 1.5 L and normal 6 pack of 12 oz bottles are available.
We also got the very allocated limited edition Pontoon Gingerbread Murder Scene Imperial Stout.
You will want it not only for the taste, but oh my the can! So cute! Hurry in!

DINNER SPECIALS 12/1 – 12/7
Fish:
Panko Crusted Flounder atop Artichoke Hearts, Caramelized Onions and Kale with a Brown Butter Beurre Blanc
Pasta: 
Penne Pasta with Grilled Chicken, Mushrooms, Spinach, and Sweet Potato in a Lemon Cream Sauce
Burger Special:
French Onion Burger8 oz. Grilled Burger with Caramelized Onions, Provolone Cheese, and an Au Jus Dipping Sauce served with our House-cut Pommes Frites