This Week
Greetings from Three Blind Mice!  Tonight is Wine Tasting!!  See details in this page.

TBM is gearing up for a terrific Valentine's Weekend.  We are running our Valentine's Pre-Fixe menu on both Saturday and Sunday night, the 13th and 14th.  See menu in this page.

We are taking reservations for all sized parties for both nights, and this will be our only menu available.

Call now for reservations as some time slots are filling up fast.

Have a great week and we'll see you soon at Three Blind Mice!
VALENTINE'S DAY DINNER MENU
*** This Special Prix-Fixe Menu is the only one available for Saturday the 13th and Sunday the 14th. Our regular Dinner and Dessert Menus are not available.

$60 per person with a choice of one each from the starters, mains, and desserts
Starters Choose One:
Traditional Caesar
Romaine | Freshly Grated Parmesan | Lemon | House Caesar Dressing | Parmesan Crisp
Gratinée au Fromage
Caramelized Onion Soup | French Bread Crouton | Browned Gruyere
Wedge Salad
Crisp Iceberg | Cherry Tomato | Smoked Applewood Bacon | Chives | Fresh Cracked Pepper| Maytag Bleu Cheese Dressing
Filet Carpaccio
Stone Ground Mustard | Capers | Rosemary Truffle Oil | Toast Points
MainsChoose one:
Mussels al Provencal
Steamed Bay Mussels | White wine | Tomato | Chiffonade Basil | Tarragon and Parmesan Ciabatta
Cornish Game Hen
Bouquet Garni Stuffed | Maitre d'Hôtel Roasted Root Vegetables | Béarnaise
Grilled Filet
8 oz Filet | Herb Roasted Red Potato | Gratinéed Brussels a la Mornay | House Demi-glace
Citrus Soy Pork Chop
House cut 8 oz. Chop | Sweet Broccoli | Cold Winter Cabbage Slaw | Sticky Citrus Soy Glaze
Pan-Seared Salmon
Maitre d'Hôtel Roasted Root Vegetables | Herb Roasted Red Potato | Sweet Onion Cream Sauce
Desserts Choose One:
Plate of Cheesecake Filled Chocolate Covered Strawberries
Salted Caramel Pot de Crème
Baileys Chocolate Trifle
Price Includes Glass of Sparkling Wine*
*Can also be substituted from a Selection of Beers and Wines.
Wednesday Wine tasting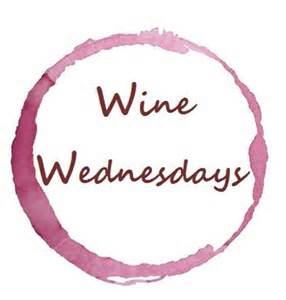 The February tasting is tonight, Wednesday, February 10th from 7-9 pm.
The tasting is $10 for the tastes of six wines and a small bite.
We are featuring 7 French wines and the tasting is hosted by Southern Vines and Michel Atlas Signature Selections, along with Three Blind Mice.
These are some must try French wines that you will definitely want to order.
"3-1-3@Three Night"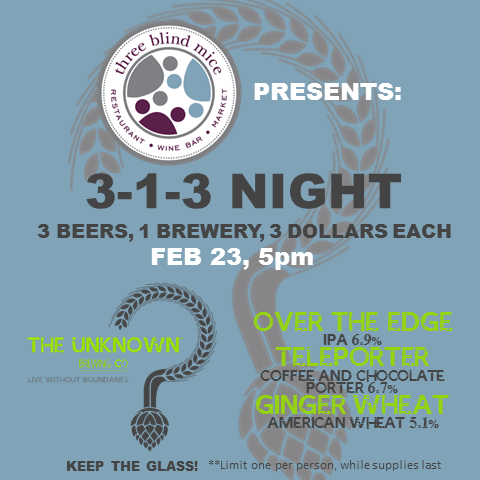 Tuesday Beer Tasting
Starting in February our beer tastings will occur the first and third Tuesday of every month.
This way our 3-1-3 night will not interfere and we can offer you two beer tastings each month.
See the February and March schedule below.
We will feature tastes of six brews for $8 from 5pm until 10pm.
It's a great way to sample that beer you just may not be bold enough to order.
February 2 and 16th
March 1 and 15th
Hours
TUE through SAT
11 am - 3 pm Lunch
3 pm - 5 Bar Service (Drinks Only)
5 pm - 10 Dinner
SUNDAY
10 am - 3 pm Brunch
3 pm - 5 Bar Service (Drinks Only)
5 pm - 9 Dinner
BAR
Open nightly late (after dinner)
CLOSED ON MON
Photo Albums