This Week
Hello from Three Blind Mice! TBM has so much going on for the rest of May and June….check out all the details in this page.

TBM will be open for Brunch Only on this Sunday, May 29th. We will close for dinner in order to give our employees and guests time to spend time with family and friends in observance of Memorial Day. Thanks for understanding.

Have a great week and we'll see you soon at Three Blind Mice
Pairing Menu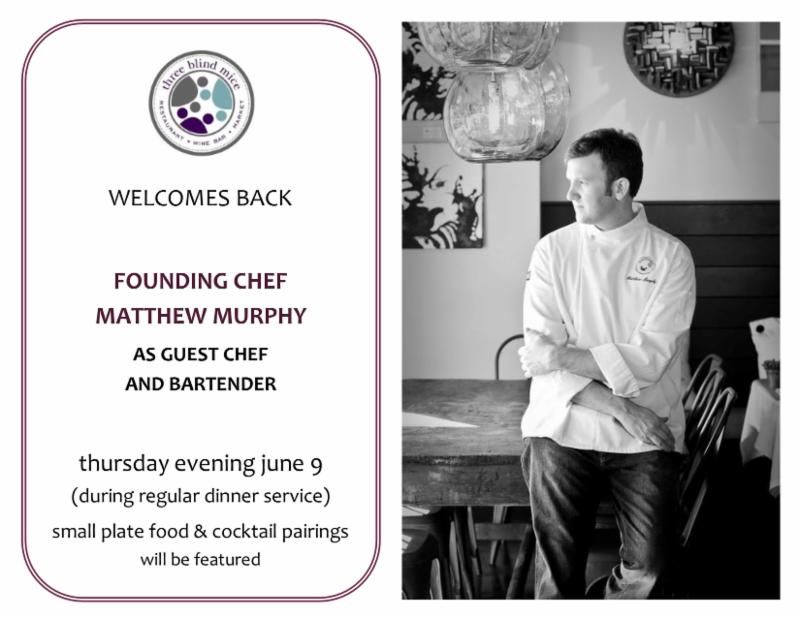 Cocktail: "Creature of Habit" Rittenhouse Rye, Cynar, Oloroso Sherry, Maple Syrup, with a Spicebox Gastrique - stirred and served over a large ice cube in an old-fashioned glass

Paired with: Bacon-Wrapped Foie Gras Stuffed Prunes
Cocktail: "The Sun King" Four Roses Small Batch Bourbon, Aperol, Suze, and freshly squeezed Lemon Juice - stirred and strained into a cocktail glass

Paired with: Yellowfin Tuna Tartare with Saffron, Medjool Dates, and Black Radishes
Cocktail: "Carpetbagger" Laird's Applejack, Bourbon, Benedictine, and Sorghum with a Blackberry Shrub and Citrus - stirred and served over a large ice cube in an old-fashioned glass

Paired with: Crispy Braised Pork Belly with 'Raised Bed' Roots and a Southern "Hot and Sticky' Sauce
TBM Retail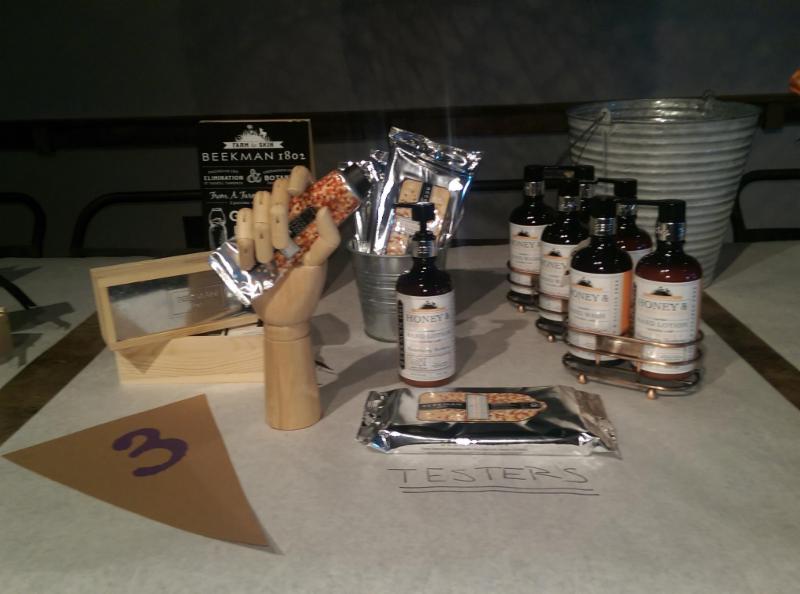 TBM Retail introduces "Beekman 1802" products in Honey & Orange Blossom scent.
This goat's milk skincare line is enriched with Shea Butter and Rosemary Verbena for summer relief and hydration.
Take 10$ off now through June 5th, 2016 on any purchases of the Honey & Orange Blossom line.
3-1-3 Nights at TBM
3-1-3 NIGHT AT TBM
3 Beers, 1 Brewery, $3 Each
May's 3-1-3 Night is next Tuesday, May 31st.
We are featuring Foothills Brewing out of Winston Salem, North Caroline.
TBM is pouring Pilot Mountain Pale Ale, Hoppyum IPA, and People's Porter.
Mark your calendar now.
Wednesday Wine tasting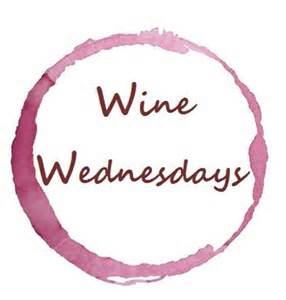 Our next Wine Tasting is Wednesday, June 15th.
For $10 you get tastes of six wines and a small bite.
Stay tuned next week for what our kick-off summer tasting will feature and what new wines will be poured at TBM.
Beer Tasting
Our beer tastings occur the first and third Tuesday of every month.
We will feature tastes of six brews for $8 from 5pm until 10pm.
It's a great way to sample that beer you just may not be bold enough to order.
Coming up:
June 7 & 21
July 5 & 19
August 2 & 16
Hours
TUE through SAT
11 am - 3 pm Lunch
3 pm - 5 Bar Service (Drinks Only)
5 pm - 10 Dinner
SUNDAY
10 am - 3 pm Brunch
3 pm - 5 Bar Service
5 pm - 9 Dinner
BAR
Open nightly late (after dinner)
CLOSED ON MON
Photo Albums