This Week
Weekly Fish/Seafood Special, Pasta Special, Mussels, and Burger Special. Here's a look at this week – December 6th – December 11th.

Fish / Seafood:
Charleston-Style White Seafood Stew
Grouper, Shrimp, Scallops, and Clams with Charleston Gold Rice, Caramelized Onions, and Tarragon in a Shellfish Cream Sauce

Mussels:
Moules Marinìeres (Our Classic Preparation)
Steamed with Shallots, White Wine, and Late Autumn Herbs

Pasta:
Braised Beef Stroganoff Pasta
Tender Slow Cooked Beef with Sautéed Mushrooms, Roasted Pearl Onions, and Noodles with a Rich Paprika-Scented Sauce

Burger:
Taverna Burger
Topped with Fried "Saganaki" Style Feta Cheese – Drizzled with Honey and served with Pickled Grape and Cherry Tomatoes served with Pommes Frites

Holiday Bookings

We are currently booking Holiday parties! TBM will be closed December 24th and 25th for Christmas Eve and Christmas Day.Call now to book our private room or larger tables for your Christmas Parties, Office gatherings, or just dinner out with friends and family.
We will also be closed for lunch on New Year's Eve, opening at 5:00 PM for dinner and closed on Sunday, January 1st.
New Year's Eve at TBM
Taking reservations now...call the restaurant at 770-696-4139 to reserve your table. Reserving all sized parties, see menu below.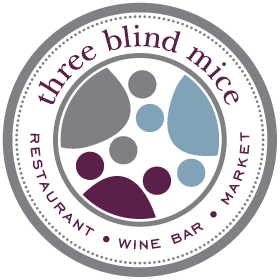 NEW YEAR'S EVE MENU 2016
STARTERS
(Choice of One)
Lump Crabcakes, Winter Intrepretation
Traditional Caesar Salad
Cream of Mushroom Soup "Cappuccino"
with a Goat Cheese Croûte and Snipped Chives
Smoked Salmon Tartine
on Toasted Rye Bread with Herbed Neufchatel and a Bitter Herb Saladette
Traditional Beef Tartare with House-Made Bagel Chips (add $5)
*** beef is raw / uncooked
MAIN COURSES
(Choice of One)
Chicken Marsala
Battered Chicken Cutlets with a Rich Marsala Wine and Mushroom Sauce served over Rice Pilaf
Crisp-Skinned Salmon Filet
with Crispy Brussel Sprouts, Roasted Winter Root Vegetables and a Mushroom Cream Sauce
Steak Diane
Grilled NY Strip Sirloin with Roasted Fingerling Potatoes, Mushrooms, Slow-Cooked Shallots, and Scallions with a Brandy Cream Pan Sauce
Grilled Filet Mignon (add $7)
8 oz. Tenderloin served with Garlic Sautéed Spinach and Pommes Paillason with a Gorgonzola Cheese Fondue
Lowcountry Shrimp and Grits
Served over Creamy Speckled Grits with Smoked Bacon and Mushrooms with a Garlic and White Wine Cream Sauce
Panko-Crusted Flounder
served over a Warm Orzo, Leek, and Lobster Sauté with a Shellfish Bisque Sauce
Braised Lamb Shank
Served with White Beans, Kale, and Glazed Pearl Onions and a Housemade Tzatziki Sauce
Winter Vegetable Plate
Crispy Brussel Sprouts and Winter Root Vegetables, Creamy Orzata, Sautéed Mushrooms, Wilted Southern Greens, and Panisses
DESSERTS
(Choice of One)
Sticky Toffee Pudding
"Turtle" Cheesecake with Pecans, Caramel, and Chocolate
Chocolate Mousse with Raspberry Coulis and Soft Whipped Cream
Cinnamon Crème Brûlée with Poached Pears
Traditional Tiramisù
Price for Prix-Fixe Dinner is $60 / person*
*Price Includes Glass of Sparkling Wine or Select Options
*Additional $25 / person for Wine, Craft Beer, or Cocktail Pairing(s)
Reservations from 5:00 PM to 10:00 PM
Winter TBM Cocktail
Winter TBM Cocktail Menu rolls out tomorrow night.
Come in and try the new "OTP" - (not so cosmopolitan), Brass Tacks, (Per)snickity, or Passionfruit Caipirinha.
You'll love them!!
3-1-3 Nights at TBM
3-1-3 NIGHT AT TBM
3 Beers, 1 Brewery, $3 Each
December's 3-1-3 night is Tuesday, December 27th.
We are featuring Ommegang Brewery out of Cooperstown, New York.
Stay tuned soon for the exact three brews to be poured. Each customer that orders any of the 3 brews gets to keep a glass.
(One per customer only)
Wednesday Wine tasting
All Sparkling Tasting
Our next Wine Tasting is next Wednesday, December 14th.
We are featuring an all sparkling tasting consisting of Champagnes, as well as other Sparkling Wines from around the World.
We are please to have Rusty with Quality Wine & Spirits hosting the tasting with TBM.
Stay tuned next week for some exacts of what we are tasting.
This Tasting will be $25 for tastes of the six wines and some holiday bites.
The tasting is from 7-9 PM.
TBM Retail
Come in and let TBM put together a Gift Basket for your Christmas/Holiday giving.
We will have some pre-made baskets for purchase, or you can have TBM custom make a gift basket for you.
Half Price Wine Tuesday Nights
Join us on Tuesday nights for dinner and enjoy any bottle of wine off our "Library Wine List" for half price with the order of any ENTREE.
(Bottles on our By-the-Glass list and retail bottles are not offered for half off.)
Sunday Night Beer Tasting
Tastings are the 1st and 3rd Sunday of the month.
Here's our Calendar for the rest of the year!
December 4th & 18th
Hours
TUE through SAT
11 am - 3 pm Lunch
3 pm - 5 Bar Service (Drinks Only)
5 pm - 10 Dinner
SUNDAY
10 am - 3 pm Brunch
3 pm - 5 Bar Service
5 pm - 9 Dinner
BAR
Open nightly late (after dinner)
CLOSED ON MON
Photo Albums